June 2013
"Self-Watering Containers" by Jerry Scott
"All About Bugs" by Rhonda Martineau
Plant of the Month: Grapes! by Regina Hitchcock
Grapes
Grapes are the oldest cultivated crop in the world. They have been found in Egyptian tombs dating back at least 6000 years. There are essentially 2 types of grapes: Eastern grapes, which are perennial and grow in the Mediterranean and Europe, and Western or "fox" grapes that grow in the United States and the Western Hemisphere. Of these two basic types, there are a minimum of 10,000 varieties known to exist and be cultivated today.
Basically; grapes are very nutritious. The grapevine is a climbing arbor which requires a strong support for its growth. They grow in clusters ranging from 6 to 300. They can be crimson, black, dark blue, pale yellow, purple, green or pink in color. Grapes contain natural sugar and dietary fiber along with potassium and iron. They taste sour when unripe because of the malic acid they contain. As the grapes ripen, the malic acid content reduces and they taste sweet. Grapes work as an astringent, anti-inflammatory antioxidant, anti-carcinogenic agent, anti-tumor agent, etc. They improve vascular activity and protect the liver. There are more than a thousand varieties, out of which only around 50 have the commercial significance. Some of them are- Alicante, Barsana, Alphonse Lavallee, Calmeria, Cardinal, Catawba, Chasselas/Golden Chasselas, Concord, Daleware, Emperor, Hanepoot(Honeypot), Himrod, Italia, Kishmish, Malaga, Niagara, Ribier and many more...
Growing grapes is very straight-forward. They like well-drained soil that is rich and full of organic matter, but will do well almost anywhere as long as they have at least 8 hours of full sun. All grapes need some sort of trellis or frame to climb on because they are a perennial vine. They will get very heavy, so strong supports are necessary. There are several ways to train grapes, but the 4-arm Kniffen system is the most common. Using the picture below as a guide, you simply prune the vines so that each vine has two arms coming from each side.
Most pruning should take place on dormant vines, as soon as they are sleeping for the winter. Come spring, you will also prune a bit more just to trim off anything that died over the winter. You can also prune dead or damaged canes any time during the growing season to keep the plants healthy.
New plants can be produced by layering vines under soil, just like with raspberries or other cane fruit. Follow the diagram below to create new plants. Once the babies have their own roots, you can dig them up and plant them in their new home. It is best to dig them when dormant and plant right away so they can break dormancy at the regular growing time.
In the US, you typically have two categories of grapes: wine grapes and table grapes. Table grapes do not have enough sugar or enough acidity to balance out a good wine. They include common varieties like Concord, Reliance, Himrod, Thompson, Interlake, and many others. Wine grapes are usually smaller, have lots of seeds, and are typically more tart than table grapes, as they are used exclusively to make wine. These include varieties like Chardonnay, Zinfindal, Pinot Noir, Cabernet, Merlot, and many others. Wines are usually named after the grapes that are used to make them, hence the familiarity of the names, even to non-drinkers.
For this area, Himrod are the best grapes to grow. They are a white eating grape that is very sweet, ripens early (about August 15) and are very hardy both to drought and to cold in this area.
Concord seedless also do fairly well for some people, and many people claim Interlake will do well for many years. Wine grapes typically need a longer growing season, so don't do that well here, but many varieties grown in St. Johns can be used to make delicious juice, jellies, and pies.
January 2011
"Starting Your Own Seedlings"
Here is the seed-starting calendar, based on a last spring frost date of May 15. If your last spring frost is later or earlier, adjust the "date started" and "date planted outside" columns for your own dates.
Vegetable

Weeks before frost-free

Date started

(based on May 15)

Date planted outside

Peppers

12

Feb. 20

May 15

Tomatoes

8

March 20

May 15

Eggplant

8

March 20

May 15

Tomatillos

6-8

March 20-April 6

May 15

Broccoli-family

10-12**

Feb. 20-March 6

April 17

Squash family

2*

May 1

May 29

Greens like lettuce, chard, kale

6-8**

March 20-April 6

April 17
*Squash family plants should be transplanted out only with protection at the average frost-free date, or 1-2 weeks after the frost free date if you don't protect them.
**Cold-hardy plants like broccoli, cauliflower, cabbage, kale, and spinach can be started so that they are transplantable size 4 weeks before the frost free date. This is also the time you would want to plant spring peas outside.
***Seed-Startng Tips***
NEVER let your seeds dry out. Even an hour of "drought" will kill the seed once it has tried to germinate. Use plastic bags or humidity domes to keep humidity high.

Always water from the bottom to avoid damping off

Always use sterile seed-starting mix

Always check your seeds for viability (germinate 10 between damp paper towels. How many sprout within the number of days stated on the package, multiply by ten for your percentage. Example: 4 seeds sprout x 10= 40% viability)

Use liquid fertilizer, diluted by half, to water seedlings once they have a set of true leaves.

Use seed leaves (cotyledons) to transplant seedlings, not stems which bruise too easily

ALWAYS harden off your seedlings before planting outside. This is done by gradually exposing them to the heat of the day, winds, cool of evening a little longer each day. This takes about a week, but will pay off in dividends with healthy, stocky plants!

Plant cabbage family and tomato family plants all the way to the first set of real leaves when you plant it in the garden.

Plant all other seedlings where soil level is the same as it was in the pot.

Light is crucial! Seedlings need 10 hours of direct light daily to keep from getting leggy.

Transplanting beans, peas, carrots, beets, other root crops, is a waste of time. By the time they catch up from the shock, transplants usually are not further ahead than plants you start in the ground outside.

Beans, peas, carrots, and corn can be pre-sprouted to ensure good germination in cooler soil. Put your seeds in a mason jar with lid. Fill with warm water and let soak about an hour, corn can soak overnight.

Carefully dump out the water, and rinse two or three times a day and recover jar with lid. When most of the seeds have sprouted, plant them outside, 2 to a hole, or carefully spread the carrot seeds on a damp paper towel and bury this flat in the planting spot. Cover with soil, water with tepid water, and keep moist until they have come out of the ground.
For more on starting your own seedlings, try any of these sites. Some of them you need Acrobat Reader to read. Download it here.
We talked a little bit about seed starting mediums. Here are several places you can purchase Coir (coconut fiber) for seed starting, homemade potting mixes, or mixing into existing soil to improve drainage.
More on seed starting, including selecting trays,
"Dendrochronology"
Rings in tree limbs and trunks can show us what the weather has been like in the past. Wide light-colored rings signify spring growth. Dark, narrow rings show us what the winter growth was like. In years where there was plenty of water and nutrients, a light ring will be wide. In leaner years, the ring will be narrow.
Here is more information on dendrochronology, or "tree-ring time line."
For a child-friendly, classroom teaching tool, go here.
December 7, 2010
"Preserving the Harvest"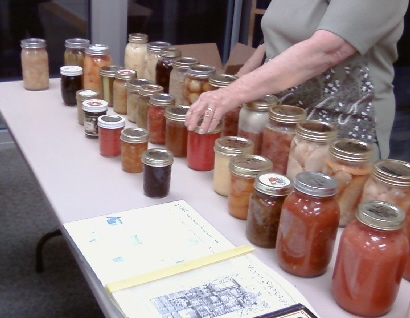 At right, Betty McMacken demonstrates how many foods can be preserved by home bottling or "canning". Seen here are tomatoes, chicken, turkey, rabbit, pears, bacon, potatoes, beets, salsa, spaghetti sauce, banana jam, and many more.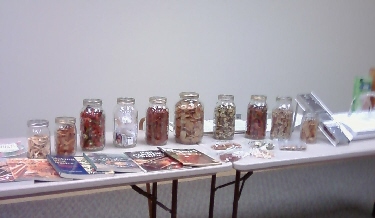 At left, an assortment of dried foods and food preserving books is displayed. We sampled peaches, apples, cucumbers, tomatoes and more.
Below are more examples of dehydrated foods ready to rehydrate and cook or simply snack on.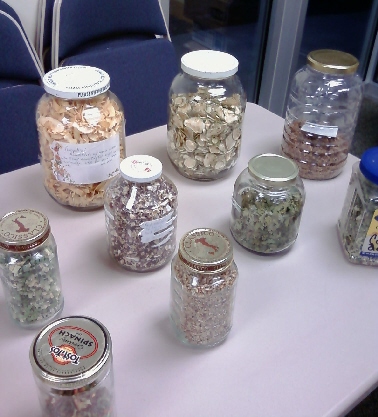 Preserving foods from the garden and homestead is simple, with the right equipment. A food dehydrator makes jerky-making a snap, while a simple food slicer or mandolin, makes slicing foods for dehydrating very quick and easy.
October 2, 2010
"Club Business"
Roberts Rules of Order and Parliamentary Procedure were adopted to govern meetings by.
It was set that a yearly $10 membership would be suggested, though nobody will be turned away if they can't or don't want to pay. It is merely a donation to the club, but does earn registered members a membership card and entrance to the "members-only" door prize drawing at each monthly meeting. We also decided to have two door prizes so non-paying members would still be able to participate.
It was suggeste that we purchase another vegetable costume for club members to wear to promote the club at events such as parades and the county fair.
APRIL 18 , 2010
The top ten best vegetable producers by area.
YOUR TOP TEN
St. Johns/Concho
1. Slicing Tomatoes-Pruden's Purple, Heirloom. Sets fruit early, ripens quickly.
2. Plum-type tomato: Summerset or Heat wave, hybrids.
3. Bell Pepper-Red Beauty, hybrid.
4. Chili Pepper-Any Anaheim type. (Big Jim, Suhuaro, Anaheim, etc.)
5. Okra- Clemson spineless.
6. Onions-bunching or bulbing, any variety
7. Corn, Sweet.-Kandy Korn
8. Squash, Winter-Waltham Butternut, Heirloom
9. Cucumber-Lemon, Heirloom
10. Squash, Summer-Golden Zucchini, hybrid
Other outstanding crops for St. Johns include garlic, herbs of many varieties, beets, chard, and collards. St. Johns' cool falls make a great opportunity to grow cabbage, broccoli, and cauliflower into November and sometimes the first of December.
Vernon
1. Cherry Tomatoes-Sweet 100, hybrid
2. Spinach-Bloomsdale Long Standing
3. Squash, Summer-Yellow
4. Cucumber-Straight Eight
5. Potatoes-All varieties, though Red Pontiac love the soil
6. Onions, bulbing-Red and yellow varieties do best, choose long-day varieties
7. Onions, bunching
8. Bush Beans-Kentucky Wonder
9. Snow and Snap Peas-Super Sugar Snap for snaps or Alaska for snows
10. Beets-Bull's blood, heirloom or Perfected Detroit, hybrid
Other great crops for Vernon include giant sunflowers (for seed), chard, lettuce, garlic, and rhubarb. Peas, spinach, and lettuces can be grown all summer with this cool climate. Choose "Cold Set" tomatoes to make sure they bloom and set fruit early enough to ripen before frost, if you must grow a slicing tomato.
Springerville/Eagar
1. Cherry Tomatoes-Sweet 100
2. Snow and Snap peas- Super Sugar Snap for snaps or Alaska for snows
3. Onions, bunching
4. Lettuce-Summertime, hybrid
5. Potatoes, Yukon Gold or Red Plum Tomatoes-Roma, heirloom
6. Asparagus-Jersey Knight
7. Sweet Corn- Any that mature in less than 80 days
8. Carrots-Tendersweet (long) and Danvers (half-long)
9. Spinach-Bloomsdale Long Standing
Springerville has late springs, cooler summers, and early falls, so any cool-weather crops are good. Chard, broccoli, cauliflower, cabbage, and greens can often be grown for several weeks to months in the spring or fall.
Show Low
1. Squash, Summer-Golden Zucchini, hybrid
2. Cucumber-Straight Eight
3. Cherry Tomatoes-Sweet 100
4. Asparagus-Jersey Knight
5. Bush Beans-Kentucky Wonder
6. Snow and Snap Peas-Super Sugar Snap for snaps or Alaska for snows
7. Potatoes, Yukon Gold or Red Pontiac
8. Onions, bulbing-Red and yellow varieties do best, choose long-day varieties
9. Corn, Sweet.-Kandy Korn
10. Small tomato: Summerset or Heat wave, hybrids
Show Low has acidic soil in town where there are pinon pines, and it has a high sand content. Out of town, toward Show Low Pines, the "Y", and towards Linden, soil is more neutral and has a more balanced structure.
Snowflake/Taylor
1. Sweet corn-Kandy Korn*
2. Slicing Tomatoes-Pruden's Purple, Heirloom. Sets fruit early, ripens quickly.
3. Plum-type tomato: Summerset or Heat wave, hybrids.
4. Cucumber-Lemon, Heirloom
5. Bush Beans-Kentucky Wonder
6. Onions, bulbing-Red and yellow varieties do best, choose long-day varieties
7. Beets-Bull's blood, heirloom or Perfected Detroit, hybrid
8. Squash, Summer-Yellow Crookneck or Golden Zucchini
9. Potatoes, Yukon Gold or Red Pontiac
10. Carrots-Tendersweet (long) and Danvers (half-long)
Much of this area is quite sandy, though other parts have lots of rocks or hard clay. If you are in a clay-ey area, avoid carrots unless they are short, like Thumbelina. *Kandy Korn is the only Supersweet corn that doesn't require isolation from other varieties, and LOTS of sweet corn is grown in the Snowflake and Taylor areas.
March 21, 2010
We had several new faces, including people from Hunt, Concho, and Eagar. Welcome to everyone whom we've never met before!
We had demonstrations and/or presentations on companion planting, composting, seed starting, and square foot gardening. Links to downloadable information are below.
The potluck was a great success and we had lots of wonderful food. Thanks to everyone who participated in that.
We had a silent auction for some garden-related paraphernalia, as well as donations given to the club. We raised $40 at this workshop, and so we, as a presidency have decided to continue this practice at workshops. If you have anything you wish to donate or auction off, feel free to bring it. ALL proceeds will be given to the club to cover costsof operation.
February 21, 2010
Here is the information we discussed at the workshop on Saturday, March 21. Some of the notes are retrieved by following the links, and some are downloadable files. Everything else is written here.
GARDEN DESIGN
Raised Beds-Surrounded
You can build raised beds from wood, recycled plastic wood, cinder blocks, landscape timbers*, recycled tires, or even stacks of firewood. Simply build your bed, fill with soil, and grow in it. Raised beds should always be at least 12" deep, though you can till the soil under the bed and make shorter beds, if you don't mind the extra work.
Raised beds-Mounded
Great raised beds can be made with no retaining wall at all. Simply mound soil into wide mounds and plant right in the soil. This is easier to do than build beds, but rain, wind, and other weather will make the sides slide, so maintenance is higher with these types.
Sunken Beds
This is exactly what it sounds like; beds made from digging soil out of a hole and filling it with the proper growing medium. These can be made with lasagna methods (layering different materials without tilling) or by just tilling the soil with amendments such as peat moss, manures, compost, or coconut fibers. They can be surrounded or not, but keep in mind that the retainer wall will be touching soil on all sides, so it needs to be something rot resistant. Great choices are cinder blocks, plastic wood, and brick.
Recycled "Stuff" Beds
Old tires without the wheels make the perfect growing area for tomatoes, peppers, potatoes, and squash. Just lay a tire on the ground, fill with good soil, and plant. You may or may not want to cut part of the tire rim off to raise the amount of surface area on which to plant.
Old barrels, half barrels, or lick barrels make wonderful planters. They need to have drainage holes drilled in the bottom, but they are the perfect size for 3 pepper plants, a tomato, a couple potato plants, or flowers if you so desire. Half barrels are deep enough to grow root veggies in them, too.
Go Vertical
Use frames built from anything-Sunflower stalks, bamboo, rebar, willow branches, PVC frames, galvanized plumbing pipe, fences, to grow vines like peas, pole beans, tomatoes, winter squashes, melons, cucumbers and save your ground space for things that are afraid of heights. Tie up heavy fruits with "hammocks" made of old rags or pieces of cloth. Vines will grow stronger to support fruits, even larger cantaloupes and winter squashes.
VERMICULTURE/RAISING WORMS
To begin raising worms, either purchase 20-30 worms or dig them from the backyard. In a large rubbermaid plastic bin, layer compost and regular garden soil, and lay damp strips of newspaper on the top. Make sure the soil comes up about 6 inches so the worms will be able to move around. Every night, sprinkle some cottonseed meal in a corner of the box, just a handful or so, and toss some kitchen scraps in for the worms to eat. NEVER put grease, bones, or meat in there, and do not give them citrus peels. They do not like onions or dairy products either! Worms especially like banana peels (cut into maybe 1 inch pieces) and they also like other fruits like apple peels and cores.
Worms produce a new cocoon with 1-4 babies inside about ever 18 hours, so within 2 months, under ideal circumstances, you could have 200+ worms in there. You can remove castings, extra worms, and soil any time you wish, but try to give them a couple weeks before the first harvest. Worm castings (poop) are one of the richest and best balanced sources of nutrients. Plus, their movement through the soil produces holes and air pockets that allow water and air to penetrate the soil and nourish your plants.
Keep your layer of newspaper as damp as a wrung-out sponge, and your worms will live a healthy life for a long time.
Follow the links below to learn more and to find resources for purchasing worm-keeping equipment.
Early Bird Worms-Super Composting worms
AMENDMENTS (in soil)/ MULCHES (on soil)

TYPE

EFFECTS

EFFECTIVE LENGTH

IN or ON soil

Grass clippings

opens soil, adds fertility

Short term, breaks down fast

IN or ON soil

Manure

adds salt, nutrition

Medium, breaks down fairly quickly

IN

Compost

Adds fertility, improves texture and drainage

Long term, feeds organisms in soil

IN

Wood chips

Opens soil

Long term, breaks down very slowly

ON

Hardwood Bark

Opens soil, imroves moisture retention

Long term, breaks down very slowly

ON

Pine Needles

Lowers soil pH, opens tight soils

Long term, breaks down very slowly

ON

Peat Moss

Lowers soil pH, opens tight soils

Long term, breaks down very slowly

IN

Straw

Opens soil, feeds soil organisms

Long term, breaks down very slowly

IN or ON soil

Leaves

Lowers soil pH, opens tight soils

Medium, breaks down fairly quickly

IN or ON soil

Sand/ Pebbles

Open soil, retains moisture

Long, do not break down

ON

Minerals (basalt, limestone, etc.)

Retains moisture

Long, do not break down

ON

Wood Ash

Raises soil pH, adds minerals DON'T USE IN CLAY

Long term, increases soil pH

IN or ON soil

Sulfer

Raises soil pH

Long

IN

Gypsum

Lowers soil pH, improves clay workability

Long

IN

Shredded Newspapers

Opens soils, improves tilth and workability

Short, breaks down in 1-2 seasons

IN or ON soil
For older Notes, including how to build a garden in bales of straw, click here.